Location
The workshop will be held at Sunway lagoon Resort Hotel, Kuala Lumpur (Malaysia), August 27-30 2007.

Kuala Lumpur is the capital and the largest city of Malaysia. Kuala Lumpur had its origins in the 1850s, when the Malay Chief of Klang sent Chinese upriver from China to open new and larger tin mines. They landed at the confluence of Sungai Gombak (previously Sg. Lumpur, which means Muddy River) and Sungai Klang (Klang River) and established mines at Ampang. In 1880 in view of its strategic location, the Selangor state capital was moved from Klang to Kuala Lumpur. Nothing of this earlier period remains as all structures were of wood and atap (thatch) which were destroyed in the fire and subsequent flood of 1881. The development of buildings intensified in the 1890s so that it warranted the establishment of a Sanitary Board. In 1896, Kuala Lumpur was chosen as the capital of the newly formed Federated Malay States.

Kuala Lumpur continued to grow. In 1957, the Federation of Malaya gained its independence from British rule. Kuala Lumpur remained the capital through the formation of Malaysia, achieving city status in 1972, and was established as the Federal Territory in 1974. The current population is about 1.8 million.

Interesting Places
Some must-see places in Kuala Lumpur (KL) are:
Petronas Twin Towers

(above, left)

: the world's tallest twin towers and second and third-tallest singular towers, standing adjacent to one of the busiest shopping malls in Malaysia. They are the most popular symbol of the new Malaysian architecture. They also appeared in a number of Hollywood films. You can enjoy going up to the corridor connecting both towers.

Menara Kuala Lumpur

(above, middle right)

: it is the KL Telecommunications tower. Currently the world's fifth tallest telecommunication tower, is located on the Bukit Nanas hill beside Convent Bukit Nanas.There is an elevator to the top, where you can enjoy beautiful views of the city.
Masjid Negara (above, middle left): is the national mosque of Malaysia, located in Kuala Lumpur. It has a capacity of 15,000 people and is situated among 13 acres of beautiful gardens. The original structure was designed by a three-person team from the Public Works Department - UK architect Howard Ashley, and Malaysians Hisham Albakri and Baharuddin Kassim. Originally built in 1965, it is a bold and modern approach in reinforced concrete, symbolic of the aspirations of a then newly-independent Malaysia.
Conference venue
The conference will be held at the
Sunway Lagoon Hotel Resort
, Kuala Lumpur (Malysia).
The flagship Sunway Lagoon Resort Hotel is an award-winning 5-star hotel offers a collection of 441 deluxe guestrooms and suites. Most guestrooms and suites have a splendid view to the lagoon or the resort's breathtaking skyline while selected rooms provide balconies.
Some facilities include:
Hi-speed Broadband service in all rooms
Dual IDD telephone lines with voice mail
Electronic safe box
Satellite news & movie channels
Coffee & tea making facilities
Fully stocked mini-bar
24-hour room service
Non smoking rooms
Five (5) food & beverage outlets
Landscaped free-form swimming pool
Easy access to the theme park & shopping mall
Address:
Persiaran Lagoon, Bandar Sunway, 46150, Petaling Jaya, Selangor Darul Ehsan, Malaysia.
Location

Below, you can find a sketch of the city with the location of the hotel marked within.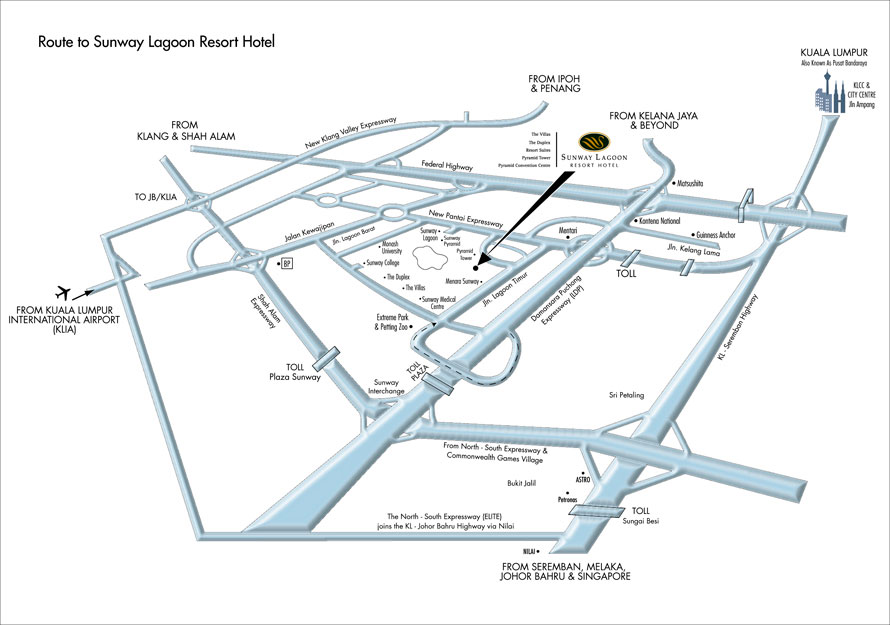 Below, a map of the surroundings of the hotel: